LOCATION OF COMPLEX POSEIDON RESIDENCE

Set among spacious green gardens with numerous relaxing features, the Complex Poseidon Residence in Nessebar is not only aesthetically pleasing, but also conveniently located. The Residence sits a mere 25 kilometers from Burgas International Airport and is in close proximity to a host of transportation options, including bus lines, boats and taxi services.
Situated in the close vicinity of Nessebar and Ravda, and only 350 meters away from a well organized sandy beach, Poseidon Complex is a great starting point for tourists to explore the Black sea resorts or for those seeking quietness and full relaxation. 400 meters away from "Poseidon" is located the largest water park in Bulgaria "Aqua Paradise". Within walking distance there are plenty of supermarkets, restaurants, fast foods, bakeries, cafes and shops.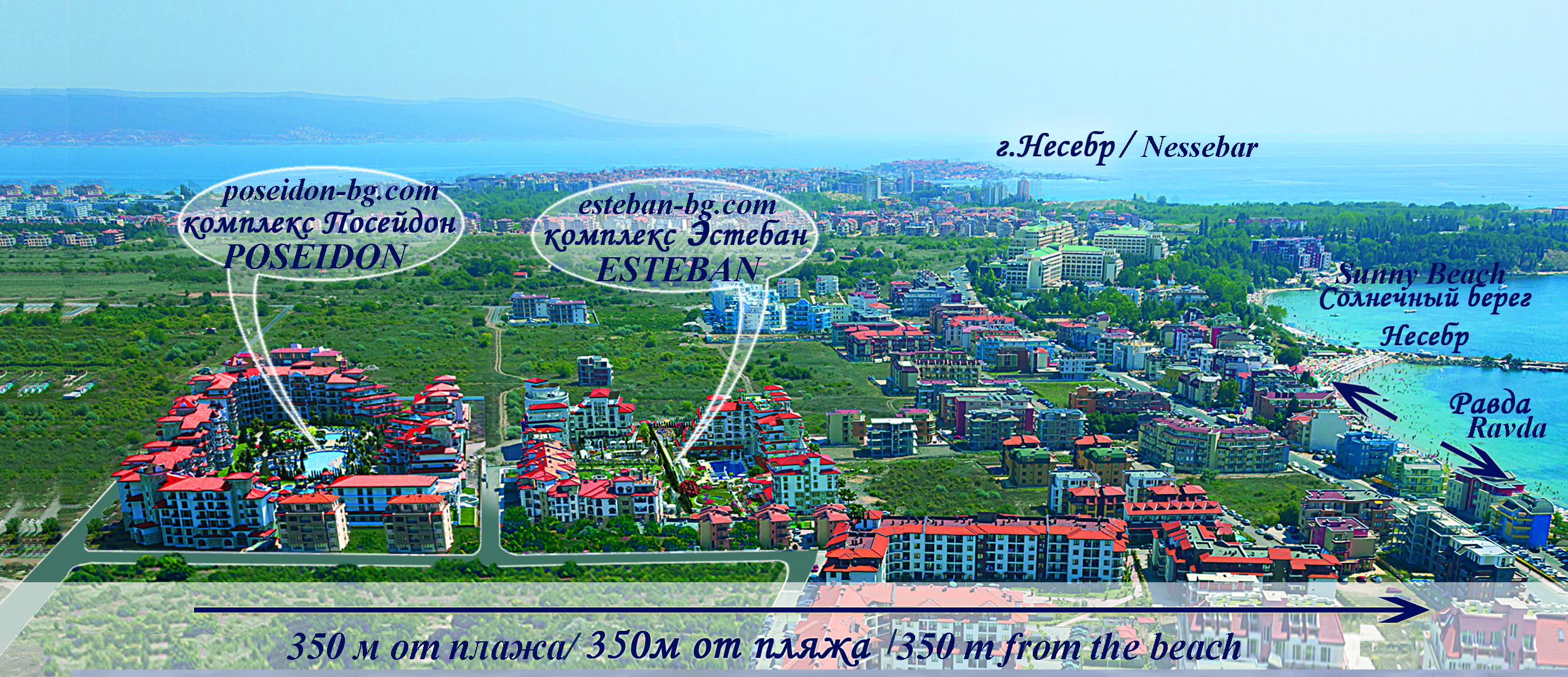 HOW TO GET THERE
The nearest airport at Bourgas is only 25 km away - approximately 30 minutes by car. Varna airport is accessible also at 90 km distance. Transfers can be arranged upon request.

Airport - Complex Poseidon by car

Check on https://goo.gl/maps/UDkYMmbjCyL2 or read directly here.
Airport - Complex Poseidon by public transport
Please leave the Burgas airport and go under the bridge to the other side. There is a bus stop of line buses connecting the Airport with Sunny Beach Tourist Resort. Take the bus with direction to Nessebar, which passes through village of Ravda / bus line 10 /. Do not forget to tell the ticket collector that you have to get down on Evredika Bus stop just to be sure, that the bus will stop on the right place and not to pass it through. Get down on «Evredika» Bus Stop and go back about 150 meters until you see the yellow-blue building of Hotel Sofia and a pedestrian zone. Cross the main road ( which name is "ulitsa Nesebar") and go straight on Kiparis street about 300 m. On your right hand you will see Esteban Complex and 50 m further, after the fountain you should turn right and keep going straight away about 20 m. On your left side is the entrance of Poseidon Residence, while on your right hand remains the Esteban Apart-complex.
Bus line № 10 does move in direction of Sunny Beach- Nessebar - Ravda - Aheloy-Pomorie - Sarafovo (Airport) - Burgas.
Subscribe to our newsletter

Contact us
Real Advance Ltd
(Property Management,

Phones:
+359 894488551
+359 878057571
Office working time
Mo-Sa 09.00 – 18.00

Copyright @ Real Advance Ltd' 2016-2020